In the early hours of Sunday morning, Kleber Koike Erbst will finally get his crack at RIZIN gold. Despite only being in the organisation for just shy of two years, Kleber has risen up the ranks like the supernova he is. At 33 years of age, the former KSW featherweight champion looks set to add another title to his cabinet of gold.
Kleber's 30-5-1 record is staggering enough to glance at but it only becomes more impressive when you consider that he's only gone the distance five times in his career. Perhaps the most eye-catching of all the statistics is the fact that 23 of his 26 submission wins have all been via choke - and it's here, in the art of snatching necks, that Kleber has become one of the biggest and most undeniable talents in Japanese MMA.


The Grand Arrival


Kleber arrived in RIZIN less than a year after losing his KSW belt to now-UFC title hopeful Mateusz Gamrot. His inaugural fight under the Japanese banner took place at the prestigious New Years' Eve event in 2020. Kyle Aguon, Kleber's opponent, was simply a warm-bodied 13-9 fighter who Kleber easily dispatched of.
Kleber's competence on the feet is certainly lacking from a technical aspect but his forward pressure, prodding calf kicks, and petulant front kicks make him a menace to deal with. Because he isn't afraid of his kicks getting caught, Kleber throws them relentlessly - and lazily. Aguon learned this the hard way when a testing kick up the middle from Kleber landed partially and lead to an immediate tangling of limbs, initiated by the Brazilian. While Aguon survived the first encounter on the mat, it wasn't long before Kleber had him exactly where he wanted.
Kleber's forward pressure culminated in Aguon getting back up onto the ropes. Kleber feinted the takedown - which is something he does often - forcing Aguon to drop his hands. He continued to bait Aguon until the trap did indeed bear fruit. The fight-ending sequence commenced with Kleber finding a home for his right hand and dropping Aguon who immediately dove in on a single. Rule number one of fighting Kleber: don't give the man your neck. Within seconds, Kleber applied the brabo choke and started telling his corner (in Portuguese) that Aguon was going to tap. The confidence in his squeeze and technique is what makes Kleber a terrifying fighter - if the RIZIN audience didn't know it then, they would soon find out.
Less than four months later, Kleber returned for his second fight in RIZIN. This time, he shared the card with teammate (and future RIZIN lightweight champion) Roberto 'Satoshi' de Souza - another man with a devastating submission game.
His opponent, Kazumasa Majima, was a definite jump up in competition from Aguon. The former Shooto standout had only just lost his 12-fight winning streak - and this against then-RIZIN featherweight champion Yutaka Saito.
Majima, best known for his grappling pedigree, decided to back his own skills on the ground. Kleber opened the fight with his typical low-volume kicking game before initiating a clinch and tossing Majima to the mat with a nicely timed Uchi mata. Although this granted Majima top position over time, Kleber displayed exactly why he's such a feared fighter off his back. Throwing elbow after elbow off his back, and fastidiously trying to wrap his legs over Majima's neck, it quickly became evident who the better grappler was between the two.
Midway through the second round, Kleber found his opening. By kicking off on the hips of Majima, Kleber created momentary separation which allowed him to trap the arm and lull Majima into a triangle choke. Once again, Kleber called his shot in front of his own corner before his opponent even tapped.
Slaying the Bad Boy


After an electric start to his RIZIN career, Kleber was rewarded with a fight against the organisation's most popular fighter: Mikuru Asakura. Asakura, whose Tapology picture aptly shows him posing with his middle finger, is known as JMMA's "bad boy" largely in part due to his involvement in underground street fights. This persona has made him a star both on YouTube (3m subscribers) and on terrestrial Japanese TV. Such is his stardom that Asakura was the man put in front of Floyd Mayweather for his return to Japan in 2022.
Asakura is a good mixed martial artist, however. Despite all the hoopla surrounding his popularity, the man knows how to fight. When Kleber made his RIZIN debut in 2020, Asakura had just fought for the featherweight belt off the back of an 8-fight winning streak. Despite losing somewhat contentiously to Saito, he was (and probably continues to be) a man at the top of the scrap heap at 145lbs.
Kleber not only had a chance to topple JMMA's biggest name, but he would also have a chance to do so in the prestigious Tokyo Dome. The famed Japanese venue had not hosted a mixed martial arts event since the glory days of Pride. The winner of this fight would likely be next in line for the featherweight strap.
The fight started in the same ilk as prior Kleber fights, except Asakura was more adept at managing range and circling out of danger whenever Kleber pressed him. The first round was largely competitive as both fighters landed their fair share of shots. Asakura did well to resist the slithering clinches of Kleber as he looked to initiate some entanglements by pulling guard and attempting to trip Asakura up with his feet.
Like most of Kleber's opponents, Asakura resisted and resisted until he could resist no longer. In the second round, Kleber walked Asakura down into his corner and started to work the clinch again. Knowing that Asakura was more concerned about a potential single-leg takedown, Kleber exploited Asakura's defensive base by cracking him with a healthy dose of elbows. The concussive power of the shots caused Asakura to flail wildly in an attempt to disengage the position. In doing that, Kleber allowed him some separation before pulling guard and applying his patented triangle choke.
Part of what makes Kleber such a prolific attacker of necks is his proclivity for finding a way to drag the fight as close as possible to his corner. With the Souza brothers barking instructions at him, Kleber displays a willingness to listen and apply the exact moves in transition that are being asked of him. It's dangerous enough for opponents when you're a total whizz on the mat but it's perhaps even more of a daunting proposition when there's a corner of seasoned BJJ competitors talking a killer through his toolbox.
Kleber slayed Asakura and was undoubtedly next in line for the featherweight belt... or so we thought.
High Risk, Low Reward


In late 2021, Kleber was overlooked for Juntaro Ushiku as Saito's inaugural defence. Despite having zero fights under the RIZIN banner, Ushiku was the DEEP featherweight champion and so his name carried some prestige, especially from a matchmaking perspective: champion vs champion is always the ultimate goal in prizefighting, after all.
Saito was the favourite heading into the fight but Ushiku caught him with a knee in the second round that ripped a nasty gash above the eye of the champion. The doctors stepped in, waved the fight off and so RIZIN had a new featherweight champion.
Kleber opted to stay active and was given his first RIZIN main event at one of their lesser-known TRIGGER shows. Despite everyone acknowledging that he was next in line for the belt, Kleber preferred to fight than to wait around. A risky manoeuvre when he already had a win over the biggest name in the division and had finished every single opponent fought.
UFC veteran Ulka Sasaki would end up being the other half of the main event, a man who had only won one fight in the last 4 years. Despite the record, however, Sasaki's craftiness on the feet had to be respected alongside his willingness to scramble on the mat.
The fight was a total barnburner as Sasaki dropped Kleber in the opening minute of the fight with a counter right hook and followed up immediately with a flying stomp that grazed the Brazilian's head. In that moment, it looked as though Kleber was finally about to be conquered. His savviness off his back allowed him time to recover before shaking Sasaki off and finding his way back to his feet.
Kleber proceeded to march Sasaki down, throwing looping overhand rights and winging hooks in the direction of the Japanese veteran. There was nothing technical about the strikes that Kleber was unleashing but their wild nature caused Sasaki to get cracked multiple times and backed into the fence. Kleber does most of his best work in the clinch position, often jumping for guillotines and triangles at every possible opportunity.
In the second round, however, it's a simple body lock takedown that spells the end for Sasaki. Despite his valiant efforts in the first round, Kleber found a way - as he almost always does - and crept onto Sasaki's back for yet another submission victory. This time, his weapon of choice: a rear-naked choke.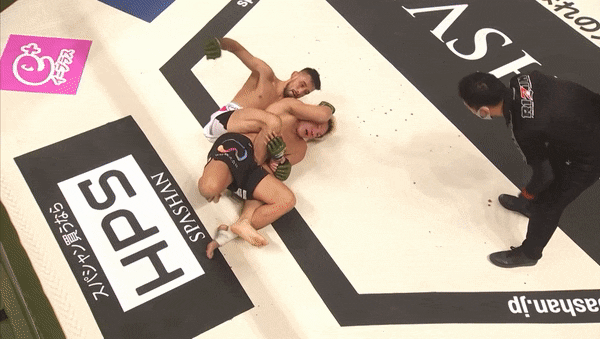 Two months after choking out Sasaki, the featherweight belt was finally back in contention. But Kleber wasn't. RIZIN opted to go for Ushiku x Saito II in hopes of Saito retaining the belt as one of the company's more recognisable names.
Kleber and the RIZIN brass butted heads over some contractual matters which never really saw the light of day (the presumption here is that money, or the lack of title shot, was the driving factor of the displeasure in Kleber's camp). Either way, RIZIN boss Noboyuki Sakakibara managed to patch things up with Kleber a few weeks later.
Ushiku toppled Saito once more and Kleber was finally the next in line... except he wasn't.
Kleber was bafflingly matched up with weed-smoking-extraordinaire Kyohei Hagiwara. Social media was certainly a hoot on the day of the announcement as JMMA fans resorted to memes in an attempt to cope with the hilariously bad matchmaking.
Even I couldn't resist shitposting:
I mused that anything other than a submission win inside the first two minutes of the fight would be a disappointment for Kleber. He treated Hagiwara exactly like the 6-5 fighter that he was, applying a slick rear-naked choke 97 seconds into the fight.
16 months after defeating Asakura, Kleber has finally been rewarded with a shot at RIZIN gold. All it took was five wins, all via finish, and a lot of promotional shenanigans along the way. At RIZIN 39, Kleber has the chance to join teammate Satoshi as champion.
Prognosticating the Ushiku Fight


A couple of weeks ago, I caught up with Jack Wannan of Knockdown News on his JMMA Monday podcast. We spoke briefly about the Ushiku x Kleber fight.
I partially jested that I've been watching Ushiku for years and I still don't know what he's good at. While that's a little derisive, there isn't anything that sticks out about Ushiku. Calling him a jack of all trades is perhaps bestowing too much praise on his game. He's adept at some things but not great at one sole thing. I still cannot shake the image of him getting knocked out by 41-year-old Daisuke Nakamura. For context, Nakamura has fought 55 times and only ever won by knockout 8 times. Freak results occur in MMA but that was only 18 months ago.
Ushiku definitely has enough tools on the feet to trouble Kleber. He carries respectable power and Kleber has displayed across all of his fights a willingness to walk through punishment in an attempt to get into the clinch or initiate grappling sequences off of a single leg.
Ushiku is a grinder and does better in fights the longer they go on. He's a notoriously slow starter. Meanwhile, Kleber fights as though he's been blasted out of a cannon. Most of his wins are secured in the first round or in the first half of the second round. He doesn't waste much time in getting the fight to the ground and strangling his opponents.
I haven't seen enough defensive savviness on the ground from Ushiku to foster any confidence in his prospects going into this fight. He's likely been keeping the throne warm for Kleber.
It's a coronation that has been in the making for quite a while and on Sunday Kleber will finally have a chance to wrap that ever-elusive belt around his waist. RIZIN should start preparing for a Satoshi/Kleber world because I cannot envision either man relinquishing their belt any time soon.
WRITER'S NOTE:
I had the cool idea of titling this piece 'The São Paulo Strangler' until I learned that there was a serial killer in Brazil with that nickname. Thank you, Google.